Day 1 : 7th Dec 08, Fair, clear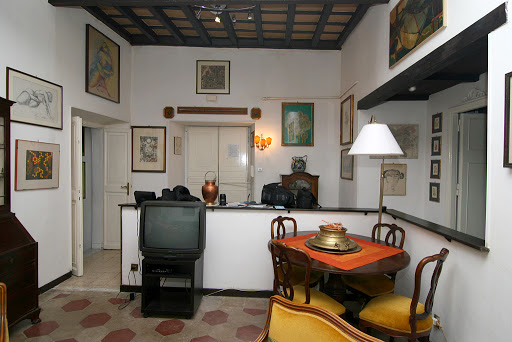 We landed in Fiumicino International Airport at 5am, an hour ahead of schedule. Our driver, contracted by our landlord, picked us up at 6am and drove us into downtown Rome. While waiting for the landlord to arrive, we had a mini tour of the Sant Eustachio church and Pantheon area where we will live the next 2 weeks.
We left the apartment after a short rest and visited Sant Eustachio Café, which is situated next to our apartment. I became an expresso convert that day. Must try item : grand café ( €1 ) .
We were barred from visiting the Pantheon and Santa Maria sopra Minverva as a mass was in progress. Not sure when it will end, we headed southward towards Largo Torre Argentina, a 5 minute walk, to see the ruins of Pompey theatre and where old Julius Cesar was assassinated by Brutus. Next we headed east in the direction of Termini Stazione by via Nazionale. Trajan's Column was undergoing renovation but did awed us with its intricate carvings.
We passed by Piazza Republicca and made it to Termini in one hour's time. This included lunch, coffee therapy and photo shots along the way.
The train ticketing booths ( ground level ) were opened and there was a very short queue for reservations. I had made a printout of my intended trip from Rome to Florence on the Eurostar Italia on the 11th Dec from trenitalia.com website in case of communication problems. The counter staff gave 3 of us a class 2 family pass with 20% discount, costing slightly less than €80.
Mission accomplished, we made our way towards the Colosseum by way of via Cavour. It took us 45 min walking downhill and stopped outside St Maggiore for photos. The Colosseum was awesome from the exterior and via dei fori Imperial was jammed packed with people because the road is closed to traffic on Sunday.
Moving away from the Colosseum, we went to the Emmanuel Victoriano monument across Piazza Venezia and had a 5 minutes photo opportunity before the guards announced closing hours are up ( 4.30 pm in winter ) with whistles.
After dinner, plans for night shoots at Piazza Navona were marred when we discovered to our horror the entire square was one night market cum fun fair. We left the fountains disappointed as hawkers vie for your attention amidst blaring music.
A long day and we make it a point to wear comfortable shoes tomorrow. The cobbled roads are beginning to kill.