16th Dec
Our wet weather program for the day was the Capitoline museums. 5 hours and hundreds of stone busts and statues in Palazzo di Conservatori and Palazzo Nuovo, I was glad to be out enjoying the Teatro di Marcello. It looks like a mini Colosseum from the exterior and the approach from the slope near Capitoline brings the best feature out of the Teatro.
We checked out the Marmatine prison ( free with donation ) where Paul and Peter was said to have been imprisoned. The Metro took us to Ottaviano where we looked for Musicarte ( Via Fabio Fassimo ), hoping to look for violin bric-bracs. Unfortunately, it looks like a boutique shop for purchasing violin and we ended up with nothing.
Dinner was again at Dal Paino which has become my favorite trattoria because of the food, price and closeness to the apartment.
17th Dec
Operation Shingle was the operation Allied forces carried out at Anzio and we were eager to see the Anzio beachhead museum and British cemetery nearby. The train ride ( €3.20 one way ) from Termini to Anzio took slightly more than 1 hour. Meanwhile, I impressed Pat by validating the train ticket at a platform's non-descript validating box ( among emergency box, tissue dispenser, ticket dispenser – thanks to Flickr and tripadvisor.com ) just before hopping onto a waiting train. I took care to alight at "Anzio", after " Anzio Colonia" as pointed out by oneTA poster since no arrival announcement are made in the train.
Anzio station was not what we expected and it had a hard- to-read area map outside. Indeed as in any town away from the capital, no one spoke English and "Parla Inglese lei?","Mi dispiace" and "Grazie" were insufficient to get us going. Relying on prior preparations using Google Earth and a compass , we stumbled upon the beachhead museum. It was a Thursday and not opened to the public but the caretaker took pity on us and we had the entire museum to ourselves, that sweet man. There was a very human aspect to the exhibits which was extremely touching.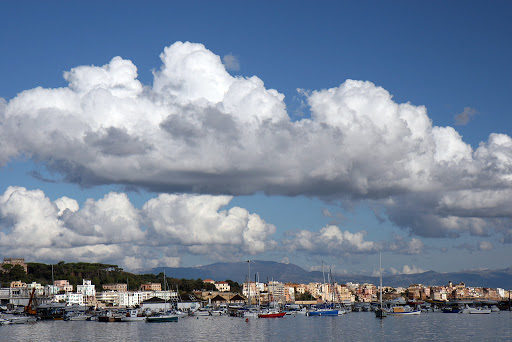 We headed towards Anzio town central but it was hard to locate because of the lack of human activity. At 3pm, we had a sumptuous lunch at a well patronized beachside trattoria .At the marina, we watched fishermen selling their day's catch and a glorious sunset. The British cemetery was nowhere to be found. Besides, I did not wish to be locked up inside the cemetery after dark – an adventure best avoided. Then, it was back to Rome by the 5.30pm train ( hourly ).
18th Dec
The original plans was to see the aquaduct using the Archeobus. Since the service to this stop has terminated, we used the Metro and went down to Subaugusta, a 30 min ride. From Google Earth earlier, we mapped out the relative location with reference to Subaugusta and moved southwest until we hit the Aquaducts. It was easy to see from afar since the housing estate suddenly gave way to great space and greenery.
The aquaducts off Subaugusta was complete and stretched beyond the golf course. It was very beautiful, majestic and an engineering marvel. There were plenty of golfers and joggers in the vicinity so we did not feel too alone. My fellow companions had to tear me from the place and we moved north to a playground and ruins. Across Via Lemonia, we rested our feet at SG Bar at Via Claudio Appia and had the cheapest lunch in Italy, €13, with 2 primos , 1 dolce and coffee. Language was no barrier and we made friends with the boss , waitress Silvia, and received free T-shirts because we are "friends from afar".
We continued our journey from Metro station Gioli Agricola and stopped by Colbi Albani. It had a wild sort of look for a park with farm houses. Actually I had forgotten why we made a stop here. If the sunset did not chase us away, a black man hounding us to buy hats in the deep wilderness did make us run all the way back to the main road. The entire place was a disappointment but the thoughts of making friends earlier more or less made the day.