Day 3 9th Dec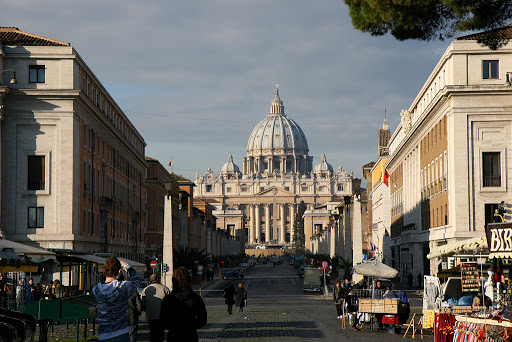 We have been here for 3 days. By now, I am able to mumble "buon giorno" to the shop keepers and even get responses . Packed with a couple of biscottis from a nearby alimentari , we trooped to the Vatican.
I had made pre-booking for the Vatican museums ( entry fee + €4 reservation charge ) some time before the trip. Now clutching the precious email printout with its bar-code that will ensure a smooth queue-free entry into the museums, we made a beeline for Ponte Castel Angelo, the bridge connecting Rome central to Vatican city across the Tiber River. From our apartment in Via Della Palombella, we walked past Via del Governo Vecchio and checked out the location of Da Bafetto, the famous pizzeria mentioned in DK Top 10. The first triumph of the day is to discover that it is only a 5-minute walk from our base.
Ponte Sant Angelo was a joy to behold. From a lower level, the bridge with its angels frozen in ecclesiastical conversation. We spent quite a bit of time on the bridge taking pictures of every sculpture and the Tiber that I secretly worried about the CF-card getting busted for possible data overflow.
Past Ponte Sant Angelo, we made a beeline for Piazza S Petro. While the shutterbugs did what they are hardwired to do, I approached a Vatican policeman to locate the entry booth. To my utter dismay, I realized the entrance is a 15 minutes walk at Viale Vaticano and not at the square. I was to realize that this is a very common mistake made by tourists.
We gained entry with our email amulet though the queue was non-existent. This is our first paid museum in Rome and maps were not entry entitlements. We wondered, completely disoriented and all signs seem to lead to the Sistine Chapel until I bought a guide book for €10.
There were replicas of Greek sculptures and followed the crowd towards the Raphael Rooms. It was breathtaking simply because by now, with the head looking upwards for an hour, I was seeing stars on ceiling frescoes. Biblical characters mingle with papal figures in a happy marriage were depicting Bible stories panels after panels. What a sight!
We maintained this pose of pointing our noses into the air until we reached the highlight of the Sistine Chapel. Silence and no flash photography was the official order but the amount of tourists in the room made it an impossible task for the security to implement this rule. I slummed onto a chair totally exhausted by the long walk. The crowd is beginning to make me feel claustrophobic. Hope was my eyes and in the very dim room, pointed out the sections of Michelangelo's creation for my personal enrichment.
Taking the advice of travelers at tripadvisor.com, we made it out to St Peter's Basilica through the door located at the right of the Chapel, completely giving the Papal library and accidentally giving the photographed Giuseppe Momo's spiral staircase a miss.
Michelangelo's Pieta , located at the right side of the entrance, was much adored by photo-toting tourists. It is the only sculpture that the famous artist signed on, across the sash of Madonna, making it his creational oddity. It was done after a spate with a rival artist and must have upset him so much as to make his mark on his commission.
We admired the immense Basilica and paid €7 to go up the Cuppola, first by lift and then another 300 odd steps on foot. The second leg of the climb left me nauseous with claustrophobia. The sweeping vistas of magical Rome and fresh air eased all these bodily discomforts, making the effort worth it. On the way down, I eased the same discomfort by visiting a gift shop and bought so many crucifixes Dracula would have sizzled up just standing near me.
By now it was already 3 hours past lunch. Our biscottis were consumed discriminately behind the pillars of the cupola and it is time to look for real sustanence. Before leaving the Vatican, we sent postcards from the Vatican post office so that we can boast to our friends about our visit.
We walked round the Vatican walls towards Via Cola Renzo and had a Roman feast of Pizza, Pasta, Antipasti of grilled vegetables, Ravioli and café all for €38. We celebrated our successful trip with super cheap gelato ( 2 gustis or scoops ) on cone for only €1.50.
Coin ( the rare Roman department store ) was along Via Cola Renzo and Pat spied some crystal encrusted Campo Marzio pen. Soon, the royal purple ( which is the new Roman black ) were his for €72.
We turned down to Via Cicerone and ended up at Ponte Sant Angelo again. It was dark at 5pm by now, giving us new perspectives to St Peter's Basilica and the Tiber.
We packed back some sumptuous dinner things at Di per Di supermercato along Via del Governo Vecchio and went back to rest our sore feet, aching backs and sprained neck.